Biochemistry Students Win Gold at MIT Competition
for Proving Bacteria DNA as Device for Information Storage
(24 Nov. 2010)
A team of 11 students from the Biochemistry programme of the School of Life Sciences at The Chinese University of Hong Kong (CUHK) won gold at the International Genetically Engineered Machine (iGEM) 2010 competition organized by the Massachusetts Institute of Technology (MIT) in the US. Under the supervision of Prof. Chan King-ming, Prof. Chan Ting-fung and Prof. Kong Siu-kai of the School of Life Sciences, the CUHK team significantly advanced the use of bacteria for information storage by strengthening its storage capacity and security system. An innovative biological cryptography system for application in DNA is developed to protect information leakage, heralding a new era of information security.
At a celebration held today (24 November), Prof. Joseph J. Y. Sung, CUHK Vice-Chancellor, congratulated the students and the newly-established School of Life Sciences on their achievement. 'The competition encourages students to develop research projects to benefit mankind with their creativity and wisdom. It also broadens their horizons by promoting inter-disciplinary learning.'
Using bacteria as an information storage device was proposed about a decade ago. However, the award-winning CUHK team was the first to use the plasmid DNA of Escherichia coli to encrypt and store information not only in the form of text, but also in the forms of images, biological barcodes, etc.
In order to store a massive amount of data, the team proposed to fragment the information and store them in bacteria. A novel information processing system was invented to reconstruct the original information. With this technology, it is estimated that one gram of bacteria can store data of up to 900,000 GB (gigabytes), which is equivalent to 450 hard drives, each with 2 TB (terabytes) of storage capacity. The biocryptography system has a great potential for long term and large scale data storage, and is also applicable to the production of genetically modified food and organisms.
Prof. Chan King-ming is very pleased with the students' result. 'The team was formed early this year, and members have spent endless hours during the past 10 months developing the research project from scratch – from designing experiments, testing out the idea, to creating a website and poster, and presenting in front of a panel of judges.' The team was led by three instructors – Yu Chi-shing, Li Jing-woei and Yim Kay-yuen Aldrin, and was composed of eight students – Loo Fong-chuen Jacky, Choi Ricky Thomson, Chu Tin-yi, Wong Kit-ying, Chiu Wai-yin Vivien, Mak Ka-yan Cathy, Liu Si-si Sophie and Wong In-chun Ada.

About iGEM Competition
iGEM is the premier synthetic biology competition for undergraduates worldwide. It began in January 2003 as a month-long course for students to design biological systems, and grew into a competition in 2004. For iGEM 2010, 138 teams with over 1,900 participants from around the world took part. They are required to specify, design, build, and test simple biological systems made from standard, interchangeable biological parts. The accomplishments of these student teams often lead to important advances in medicine, energy, and the environment.
For more information, please visit http://www.igem.ord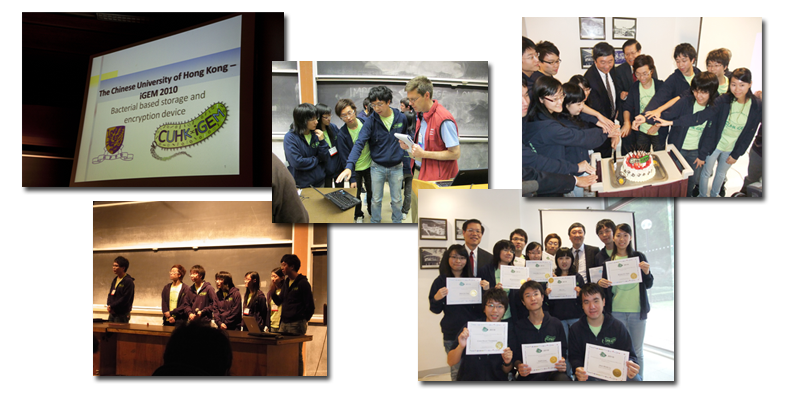 >>
iGEM CUHK Team Website
>>
Team Members
>> More Photos